This is a tutorial for basic mending skills. If you have no practice with a sewing machine you may not be able to do this right. As long as you can operate the machine, you should be able to.
My grandmother was a very good seamstress, and made amazing quilts. I had no sewing talents in my youth, and oh I tried. It often ended with me in tears. Years later I decided I was going to teach myself to sew. Drawing on the lessons of my youth, and my amazing googlefu I managed to do it.
These days I find myself more mending something. So this Back to Basics post is something different from my normal kitchen posts.
I'm short.
I am 5 foot tall. Just that, there is no quarter inch or anything extra. 5 on the line. It is really hard to find pants that fit. I wear a lot of boots and that helps a lot. It never fails though, I end up with pants that are too long.
For work I have to have black slacks, and I found me a nice pair of dockers that fit me perfect except the length. They were not too bad, and I thought with the boots, I would have no problems.
So I was wrong:
In fact it was so bad I managed to get a rip up on of the back:
I neglected fixing this for a while and the rip just got bigger. The words of my grandmother, "A stitch in time saves nine," echoed in my head. As my work days got longer for the busy season I had less and less time. My last day off I decided to not only fix the rip, but take the pants up too.
Here is a basic tutorial on mending pants:
Hopefully you are smart enough to fix your pants before they get as bad as mine. If so you can skip a few of these steps!
The first thing I did was fix the rip. I cut off all the longer strings and cleaned up the tear. I did a quick hand stitch first. This will keep everything in place.
When hand stitching I do not tie a knot at the end of some thread like most people do. I use another method I learned from cross stitching. I cut a length of thread twice the size I need it, and fold it. I thread the needle through both of the end pieces, leaving a loop on the other end.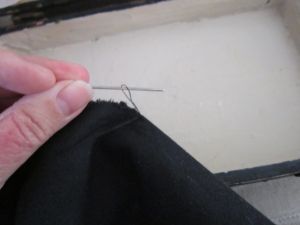 I start a stitch, careful not to pull everything through, leaving the loop open. Insert the needle through the loop and then you pull it tight. From there stitch as normal. I took pictures of this, but I decided to spare you the boring details.
Next I needed to clean up the bottom of the legs.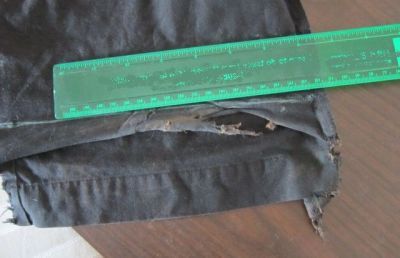 Using a ruler and some contrasting chalk I found the highest point of damage and cut everything below it off.
Once it was cut I tried them on, to see how much room I have to hem and take them in.
The important thing to remember
is that you need to sit down when measuring. When you sit, pants rise. If you take them in too much you will end up with high waters when you sit.
Measure twice, cut once!
I know this is a wood working rule, but really this is important in most crafts.
I always measure before I start pinning and I keep a ruler or a seam gauge close and check my seams as I go.
Personally I hate raw edges, so I always do a double hem. The first pinning is half the size I want to take the pants up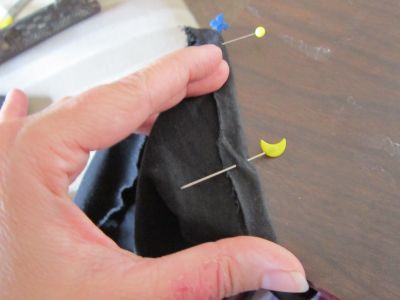 Once this is stitched up, I need to trim it up more, to make the final seam cleaner.
Anytime two seams meet, things get bulky. This can make it hard to sew, and you can even break a needle on your sewing machine.

Cut a small arch in the fabric over the other seam. When you go to pin this part be aware, and watch it closely when sewing.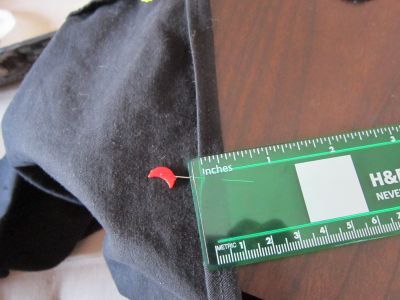 Like the first time make sure your seam is even all around. Always double check your measurements.
After pinning, I always try them on again. Make sure everything is lined up right, and everything hangs correctly.
Be VERY Careful!!!
Stepping on a stick pin hurts REALLY bad!
Once you are satisfied that you have everything right, finish it up!!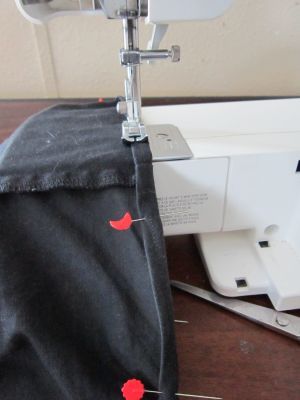 I'm so happy that I now have nice clean edges on my work pants!!! Maybe I should take up some pajama pants on my next day off. Well maybe not, but I can dream right?
I still have to make a week's worth of muffins and about a ton of yogurt. I need some cream cheese for a new recipe I found on Facebook! I will sharing the results of that on my friend's new facebook page:
Recipe Results
.