I get cold REALLY easy. I also live in Texas. If you have never been to Texas in the summer I can't explain to you the heat. It is hot enough to kill people. This means you have to use the AC. Something I have learned in life it is hard find a boyfriend who like the same temperature as me. I am most comfortable in 78-80 degrees. This often means the AC set to 75 and me with a blanket.
I LOVE shawls. My step-mother made me one once that I adore! I love the colors but it often does not match what I wear. At home this is no problem I will wear it anyway. Every now and then, when I want to wear one out though, I always find myself wishing I had a black shawl. So I decided to make one. I may end up making a wrap at some point too.
While searching the vast resources the internet has to offer I found a free pattern for
Sezession I
on
Ravelry
. I have fallen in love with this, and it is such a simple pattern! I am sure I will finish this soon. I do not normally do things like this and have never done a pattern that called for blocking. Mainly because I have avoided them. It seemed like a complicated processes, but this pattern includes information on how to do this. I decided to give it a shot and I am kind of excited to try! It may be a couple of days before I get to that though.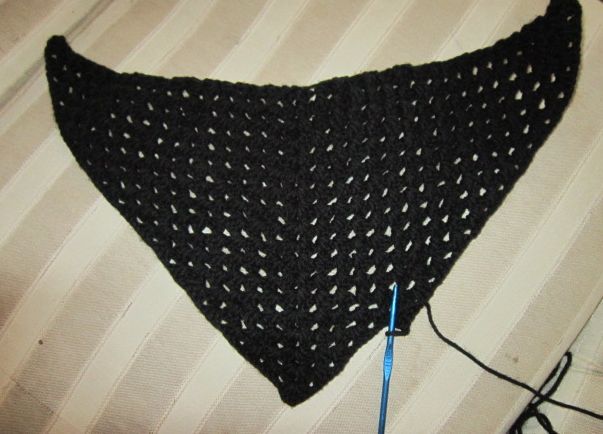 I do like that this is a simple enough pattern that I can crochet while reading. I may end up making a few of these in different colors and use them for gifts too!
The pattern page shows the finished and blocked piece, and it has such a lovely drape!
AT SOME POINT
I have to finish up a baby blanket that I made. The blanket is finished, but I have to weave in LOTS of ends. I need to get that done, because it is a gift for a very pregnant girl at work. The doctor says she has a month but every one says it is any day now. You can just see that baby is ready to come. I want to get that finished tonight so I can wash it and take it to her tomorrow.
What is on your hook?
Feel free to share your current projects or free patterns of things you are working on!