Sorry for not having a Back to Basics post last weekend. I was just too busy. The fun part is that I was busy with this recipe!
My oldest son, an aspiring chef, turned 14 on the 5th and on the 7th we had a big BBQ with homemade cheese cake in his honor. He helped in every aspect of the making of his birthday cake.
Before I get started I want to say this project does take a lot of time and you want to keep that in mind before starting. It take 2-3 days for me (depending on my work hours).
This is very easy, a little messy and very time consuming. To make cream cheese all you need is milk and a yogurt starter!
Cream cheese is made from yogurt!
I didn't know this until recently. I got really excited, because I have recently started making my own yogurt. Making yogurt can take like 16 hours, but is very easy. If you do not know how, check out my post with instructions:
Homemade Yogurt
When making yogurt, some people strain it to get Greek yogurt. If you strain it over night it becomes cream cheese. The longer you let it set the firmer it becomes. When straining your yogurt you should save the clear yellow liquid. This is called Whey and is very useful. I even have a recipe for
oatmeal muffins with whey
, that my whole family loves.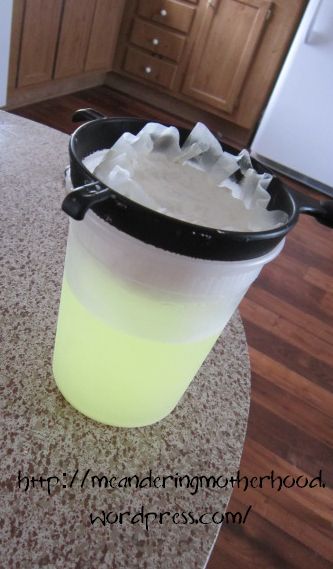 Most cheese cake recipes call for 2 cups of cream cheese. To get 2 cups you need about 4 cups of yogurt. This can vary of course and feel free to make extra. Some recipes do call for more cream cheese so keep this in mind before you make it. After spending 2 days, you really do not want to find yourself short.
When does it expire?
When does this expire is a question I often find myself asking when I make stuff. My best guess would be like yogurt, it expires on the date the milk used to make it does.
Easy No Bake Cheese Cake
for the crust:


20 sheets of gram crackers (I like chocolate ones)


1/2 c. soft butter


2 tbsp sugar


Put the gram crackers in a large storage bag and crush with a rolling pin. You can also brake with your hands. You want it coarse.


Mix in sugar an butter and press into the pan, and set aside.
for the cake:


16 oz (2 cups) homemade cream cheese, room temp


14 oz can of sweetened condensed milk


1/4 c fresh lemon juice


1 tea vanilla


Fold the sweeten condensed milk into the cream cheese until fully mixed.


Fold in lemon juice and vanilla.


If you want to add fruit or melted chocolate this is a good time.


Pour the mix into the prepared pan, and smooth it out with a spatula.


Leave in refrigerator for at least 2 hours before serving. You can smooth the top with wax paper after it is firm too.
For Dante's birthday BBQ we made a bunch of toppings from fresh fruit. All we did is reduce the fruit with a little cane sugar to make a simple syrup. We set it up like a Sunday bar letting people choose their own toppings.